We are one of Australia's top Body Recomposition teams specializing in areas of general population transformations, physique coaching, and competition preparation for both Men and Women competing in the WBFF, IFBB, ICN, ANB and other regional federations.
Our specialist coaches provide our team both online and face to face coaching in Sydney and Adelaide.
The Daredevil Fitness Crew is led by our 2 head coaches who collectively have over 15 years' experience in the fitness industry. Both our head coaches actively compete themselves and are top rated WBFF PRO athletes.
More about our star coaches below: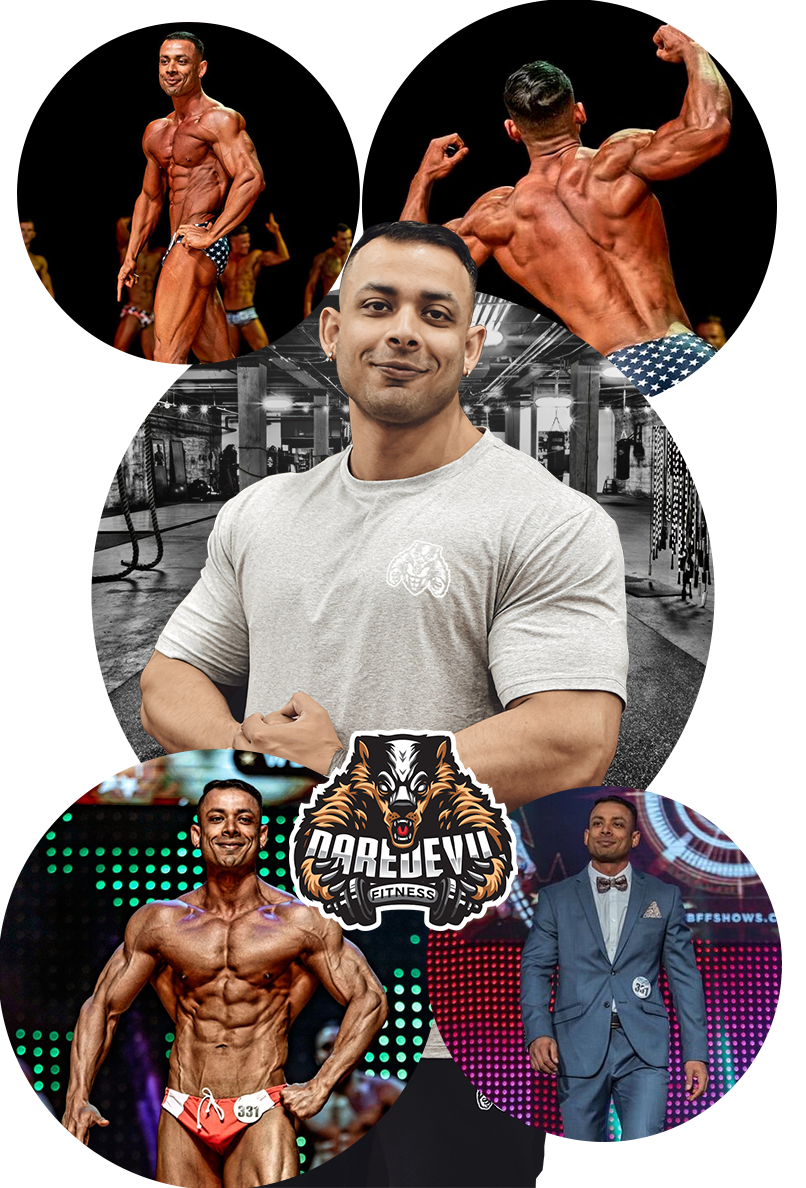 Ali is a WBFF PRO Australia Fitness Model and an online fitness & lifestyle coach.
Ali has been at the forefront of the fitness industry for over a decade now. During this time, he has competed in several bodybuilding competitions and has trained countless people to be the best versions of themselves.
If you are looking for a FAD fat loss diet, a magic pill which will make you slimmer in 4 weeks or a shortcut to put on 20 lbs of muscle before summer, then Ali is NOT your guy.
To change your body, you must first change your mind. Nothing worth having in life comes easy.
You will need to work hard, trust the process, be patient and earn that body of your dreams.
Whether your goal is to lose fat, build muscle, boost your mind and body confidence or achieve a lifestyle transformation, he will take you on a life-changing journey to achieve optimal health, results and improving your mindset.
Remember that online personal training goes beyond flexing your muscles in a training facility.
Ali incorporates personalised physical rehabilitation and fourth-dimension nutrition programs whose mission is to help you achieve unprecedented physical and nutritional outcomes.
The results are guaranteed! But only if, you trust the process, be patient and promise to work hard.
Ready for your transformation? Let's get started now!
Keith is based out of Sydney, and runs online Comp Prep clients throughout Australia.
With many years experience as both a competitor and a coach, He knows what it takes both physically and mentally to get you to the stage and take things to the next level.
Ensuring that your overall health, hormones and metabolism don't suffer during your competition prep
Educating his clients during the entire process so that you're not left in the dark with why or how different aspects of the prep work
Transforming your physique
Optimizing your physical capacity and functionality throughout the process
Providing emotional and mental support and guidance
Focusing on personalized nutrition and training to create exceptional stage conditioning for competitors both male and female.
Specializing in male posing and stage presentation to produce unique and crowd capturing routines specific to the individuals character.
Focusing on the complete package, physical conditioning, stage presence and overall mental focus as a competitive athlete.
Our Training programs utilize high intensity workouts and various splits for fat loss. Our emphasis is always on muscle growth and strength gains. Whatever your goal may be, we have a plan for you!
Everything is custom. No 2 clients ever get the same meal or workout plan. Nutrition plans are created using height, weight, physical activity level, workout frequency, and goals.
We have 10+ years of industry experience and have helped countless people achieve incredible transformations over the years.
Lastly and most importantly, we are internationally qualified coaches and you have the assurance that everything you get from us will be backed by science and personal experience.
with the Daredevilfitness Training App
Adjustments when required