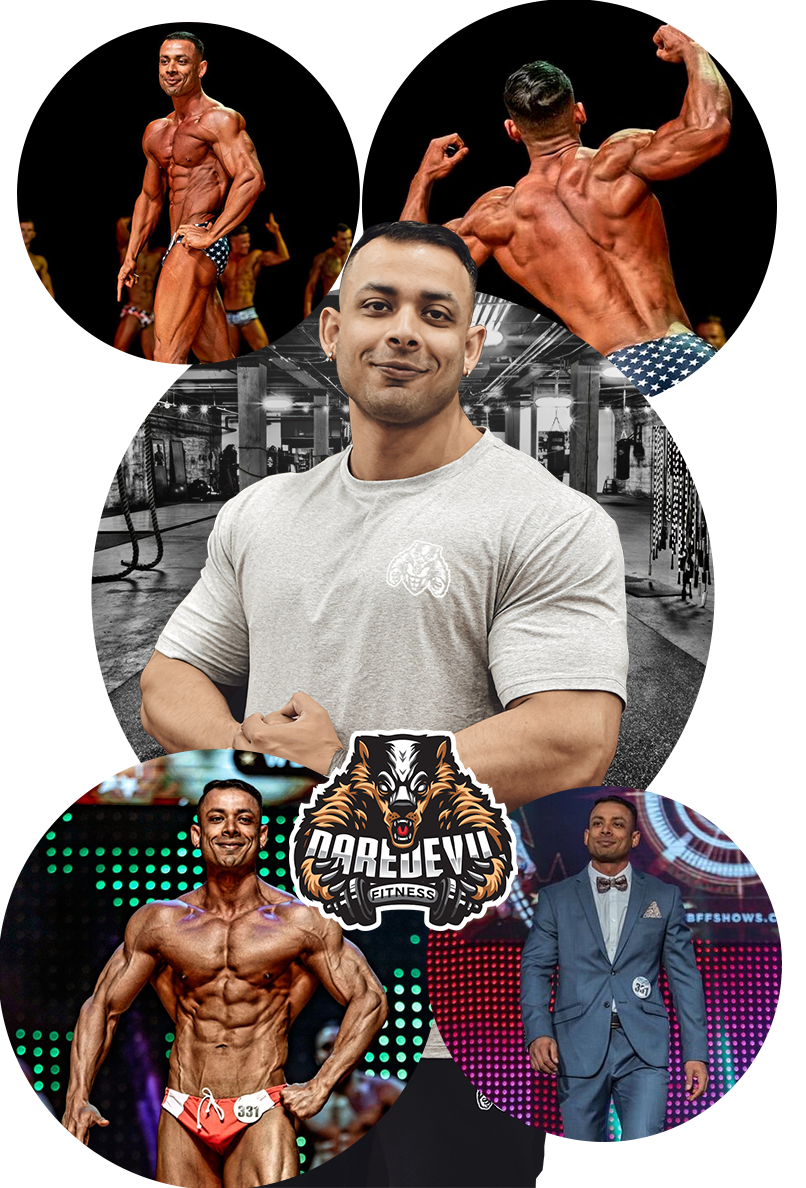 MEET YOUR TRAINER: ALI
Follow Instagram:
@daredevilfitness
I am a WBFF Australia Fitness Model and an online fitness & lifestyle coach.
I have been in the fitness industry for over a decade now. During this time, I have competed in several bodybuilding competitions and have trained countless people to be the best versions of themselves.
If you are looking for a FAD fat loss diet, a magic pill which will make you slimmer in 4 weeks or a shortcut to put on 20 lbs of muscle before summer, then I am NOT your guy.
To change your body, you must first change your mind. Nothing worth having in life comes easy. You will need to work hard, trust the process, be patient and earn that body of your dreams.
Whether your goal is to lose fat, build muscle, boost your mind and body confidence or achieve a lifestyle transformation, I will take you on a life-changing journey to achieve optimal health, results and improving your mindset.
Remember that online personal training goes beyond flexing your muscles in a training facility.
I incorporate personalised physical rehabilitation and fourth-dimension nutrition programs whose mission is to help you achieve unprecedented physical and nutritional outcomes.
My results are guaranteed! But only if, you trust the process, be patient and promise to work hard.
Ready for your transformation? Let's get started now!
Fat Loss
Muscle Gain
Body Recomposition
Competition Prep
Off-Season Coaching
My Training programs utilise high intensity workouts and various splits for fat loss. My emphasis is always on muscle growth and strength gains. Whatever your goal may be, I have a plan for you!
Everything is custom. No 2 clients ever get the same meal or workout plan. Nutrition plans are created using height, weight, physical activity level, workout frequency, and goals.
I have 10+ years of industry experience and have helped heaps of people achieve incredible transformations over the years.
Lastly and most importantly, I am an internally qualified coach and you have the assurance that everything you get from me will be backed by science and personal experience.
Your tailored workout plans, nutrition plans, grocery shopping lists, recent activity log and results tracking made available to you at your finger tips.
With the Daredevil Fitness app, you'll receive complete access to:
Full exercise library and footage on how to perform each exercise
Access to your personalised training program
Ability to record your measurements, weight, body fat, progress photos and log your workouts using the results tracker
Direct messaging with me personally on the app